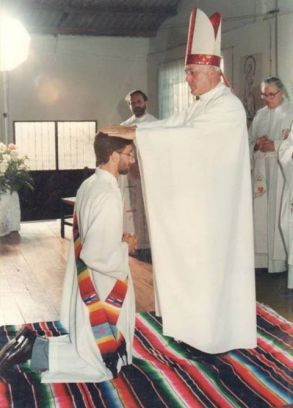 Today is a special day. 20 years ago, on this very day I was ordained as a priest. What to do to celebrate it? This morning, the normal daily Mass together with the steady group of people that comes every day, but special giving thanks for these years as a priest. Heavy rain, and someone greeted me and said: yes, so many blessings pouring down! I can agree totally: 20 years of blessings in many and different ways. Special also, because I could share this joy this morning with a group of brothers in the prison. It was heavy rain, the temptation of not going also appeared, but I said: today I can share this joy with them, why not go! It was worthy going! God speaks to me in different ways, and for sure this morning it was added joy to spend time with them. Lunch in the religious community, together with two Brazilian Sisters, also a blessing sharing some moments of fraternity. Still today moments of work and also later, joining some other friends to celebrate.
Twenty years ago I was surrounded by my family and many friends for that unique event. Very vivid are the emotion, the simplicity of the ceremony and the joy of the people. It was the first ordination in that parish. In the same Mass I was already blessed and sent to mission. A missionary journey that begun not only at that moment, but since feeling God's call to be a priest and a missionary. I am happy to say that out of these 20 years, almost 17 years in the mission. Exactly two months after my ordination I was already landing in Hong Kong. God calls and God certainly gives strength to live out, even in front of many challenges.
I am very happy to share with the community of Mong Ha these past years of my ministry. I'm always learning the meaning of "service" in simplicity, and sharing with you. A missionary has to be able to have an open heart, to all, and for sure, each one of you are very special to me. Thanks for giving me the opportunity to walk with you.
The image of a boat forgotten on the sea shore is a powerful image for me. Yes, I left my boat, but found other shores. This is part of the journey, and it is a joy to be able to say: it is worthy to live it! it is God's gift.


Fr. Wai
4/9/2013